The Piano Guys Presale Codes and Tickets Discount Info
Tickets are now on sale for The Piano Guys! Check them using the links below in the table. If you want the best seats for The Piano Guys events with reasonable discounts you can check our site for The Piano Guys presale codes. 
| Promo Code | Discount Percentage | Date | Event |
| --- | --- | --- | --- |
| | Up to 25% | Wed Apr 17 2024 | |
| | Up to 25% | Thu Apr 18 2024 | |
| | Up to 25% | Fri Apr 19 2024 | |
| | Up to 25% | Sat Apr 20 2024 | |
| | Up to 25% | Tue Apr 23 2024 | |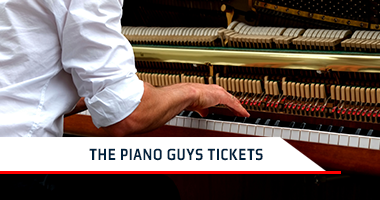 The Piano Guys is a classical and jazz musical group made up of Steven Sharp Nelson, Al van der Beek, Jon Schmidt, Paul Anderson and Tel Stewart from Utah. The band found fame through their YouTube channel where they published their videos of mash-ups and renditions of famous songs. These songs were accompanied by Tel Stewart and Paul Anderson's professional video shots, edited in an expert manner. They received mainstream fame and success after they released their debut studio album. Currently the guys are making way to your city on their tour. To make sure you attend their concert, book cheap Piano Guys tickets in advance.
The Piano Guys, Steven Sharp Nelson plays the cello while Jon Schmidt is the piano guy. Initially, Anderson ran a piano shop in St. Georgia, Utah. During that time he happened to meet Schmidt, when he visited Anderson's shop to ask him if he had space to practice for his upcoming concert. Some months later, just for the sake of fun, Stewart and Anderson started to make videos for Schmidt's music. Soon they started to collaborate with him on a professional level and started to post one video every week. Soon they had sufficient number of followers on YouTube.
The Piano Guys mix and match many of their audio tracks and videos and combine them in a unique way with Jon on piano and Steven on cello, electric and acoustic. Michael Meets Mozart's video features Steven and Jon playing original mash-up hip hop classical tunes. The tunes are recognized by variety of sounds that are used to compose them. The instruments that can be heard in the songs are all played by the group, which include cello, piano, bass drum and mouth percussion.
The Piano Guys' The Cello Song is an adaptation and arrangement of Unaccompanied Cello Suite No. 1: Prelude of J.S. Bach played by Steven Nelson. The original track is dedicated to solo cello performance; Steven adapted it and arranged it with eight cellos along with the music material taken from the original track. In June of 2011, the video was included in their YouTube channel and Steven mentioned that they named it The Cello Song because the original name of the track is difficult to remember. The video received a number of views and high ratings.
The Piano Guys video Moonlight features Steven as he plays the track. He composed the song in electric cello after getting inspired by Moonlight Sonata by Beethoven. It is also inspired by Beethoven's 2nd movement and 7th Symphony. It was included in their YouTube channel in July of 2011, once again receiving a lot of appreciation and views. Rock Meets Rachmaninoff includes Jon as he plays Prelude in C# Minor by Sergei Rachmaninoff's modern version. In the original version of the track the piano is way louder than the rest of the music, however in the band's version music sheets are pretty much louder.
The Piano Guys won "On the Rise" YouTube Award for two of their videos, Michael Meets Mozart with Steven Nelson and Jon Schmidt and Pirates of the Caribbean with Jarrod Radnich. Last posted, the video had around twenty five million independent viewers. This brought them into instant limelight over the internet and gave them the courage and motivation to create a proper band and release a studio album. Apart from that, The Piano Guys have also started touring along the country and have gained enough fame on YouTube alone to give sold out venues. Such a great concert is coming up soon in your own city. If you wish to attend a live performance by the boy-ensemble then get The Piano Guys tickets booked soon.